Settings to Auto-Generate Coupons
Prerequisite: WooCommerce coupons must be enabled.
This plugin lets you generate discount coupons that can be used for the next purchase of the same product to avail discounts.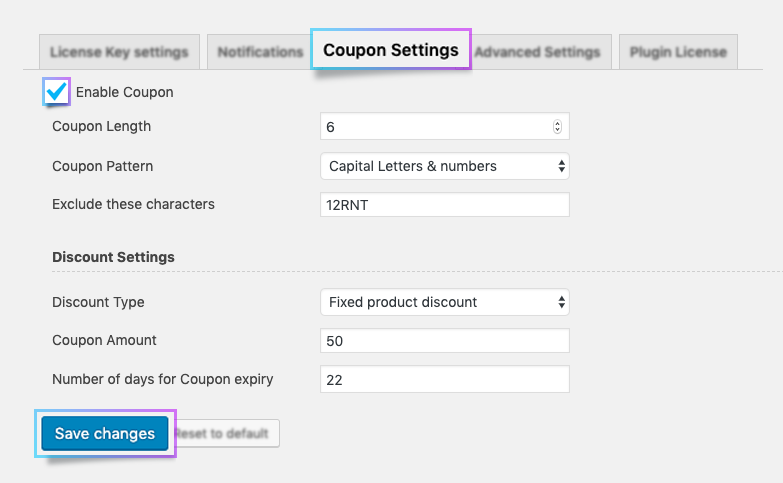 Follow the below-given steps to apply the coupon settings:
Go to Dashboard ⟶Navigate to License Manager⟶Settings
Under the Coupon Settings tab, you can add the details in the required fields

Enable Coupon: Enable this checkbox to generate a coupon code.
Coupon Length: Define the length of the coupon code to be generated. By default, the value will be 6.
Coupon Pattern: Pattern can be a combination of letters and digits. Choose the desired pattern for the coupon code from an available list. Following are the available key patterns:

Capital letters only
Small letters only
Mixed letters only
Numbers only
Capital letters & Numbers
Small letters & Numbers
Numbers, Capital & Small letters

By default, the key pattern will be Capital letters & numbers.

Exclude this character: The entered characters will be excluded while generating license keys.
Discount Type: Choose the desired discount type for the coupons:

Percentage discount
Fixed product discount

Coupon Amount: Add the discount amount to the coupon
Number of days for Coupon Expiry: Add the number of days in which the coupon is about to expire.

Once you have made the necessary changes, click on the "Save changes" button to confirm the changes.
When the customer completes an order, a coupon code will be generated along with the license key. From the License Keys section in the My Account Page(customer- end), you can copy the displayed coupon code which can be used to avail the discount the next time you purchase the same product.
---